E Que Das Suas Vidas?: Revisiting the Lives of Queer Brazilians in Newark Ten Years Later
Date 09/17/2019 -

6:00pm

to

8:00pm


Location: Dana Room, John Cotton Dana Library, 185 University Avenue, Newark, NJ 07102


From 2005-2008, Yamil Avivi conducted an ethnographic interview study of queer Brazilian immigrant men living in the Ironbound neighborhood. Missing from dominant and immigrant Lusophone newspapers and historical narratives, Avivi centered these queer men's everyday lives including their participation at church, the market and nightlife within the neighborhood. Just over ten years later, he interviewed several interviewees again to understand what has become of their lives. He asks these men about their continued relationship and sense of belonging within the Ironbound and greater Newark; how the queer community and its nightlife in the neighborhood may have grown, changed or stayed the same; and where they see themselves in the future. Ultimately, Avivi argues that the interviewees who continue living in the Ironbound are contained within its dominant and transnational heteronormative culture despite (their engagement and relationality with) a younger generation's visibly queer(er) presence and eccentricity in the neigborhood's market and nightlife. In spite of this, these men continue fostering meaningful queer non-Brazilian and non-Lusophone relationships within and outside the Ironbound that suggest critical diversity in their everyday lives.

About Avivi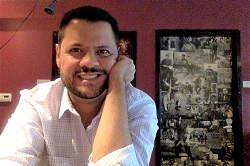 Dr. Yamil Avivi is an independent scholar who received a Ph.D. in American Culture in 2016 from the University of Michigan. Avivi's research focus is on U.S. queer Latinx Brazilians and Colombians and also Latinx Muslims, with a focus on New Jersey. He has published articles on Queer Brazilian TV Representations in Newark, on subjectivity and spacemaking among Brazilian Queers in Newark, and about Colombian queer asylum seekers in South Florida. His dissertation, "Latinx Youth Subcultures in Elizabeth, New Jersey: Memory, Spacemaking, and Citizenship, 1980s-1990s" examines non-heteronormative Latinx youth subcultures - such as house, gay ball, rave, and goth - to amplify Latinx youth subjectivity and subject making. He is working to turn his dissertation into a book. Avivi served as a 2005-2008 graduate fellow with the New Jersey Hispanic Research Information Center (NJHRIC) at the Newark Public Library. He helped curate the first ever oral history exhibit on Colombians in New Jersey and wrote two statewide oral history profiles on Colombians and Dominicans. He is currently working as a Fair Housing Advocate for the Legal Aid Society of Palm Beach County and lives in Boca Raton, Florida.
Following Dr. Avivi's talk, Victoria Borges will facilitate a discussion.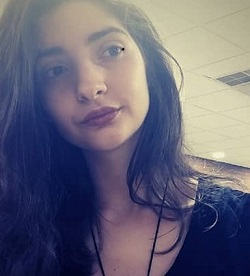 Victoria Borges was born and raised in Newark, New Jersey in the Ironbound section, and because of their environment they are highly connected to their family's culture which is Brazilian. In many other ways, they have a very limited experience of being Brazilian, not only because they were raised in the United States, but because Victoria's family is evangelical, with very strict heteronormative guidelines and ideologies. Both of their parents attend an evangelical church located here in Newark, NJ and the religion is popular in Brazil. Understanding their queerness and their identity was a journey because any thoughts that were not considered "sacred" or connected to "God" were demonized, this of course included any thoughts they had about women or expressing oneself outside of the gender binary or heteronormativity. After high school, Victoria had come out of the closet but was still faced with invalidation before and during college. Currently, Victoria works for Ironbound Community Corporation as a Volunteer and Community Partnership Coordinator. They graduated from college with a Bachelors in Social Work and is passionate about gentrification, art, queer liberation, poverty/homelessness, and holistic healing. They believe it is important to be visible as a non-binary femme (femme fluid) and a bisexual/pansexual. Their pronouns are she/they.
Whitney Strub (moderator) is Associate Professor of History and co-director of the Queer Newark Oral History Project. His first book, Perversion for Profit: The Politics of Pornography and the Rise of the New Right, was published by Columbia University Press in 2010. His second book, Obscenity Rules: Roth v. United States and the Long Struggle over Sexual Expression was published in 2013 by the University Press of Kansas. His articles on obscenity, pornography, and sexual politics have appeared in American Quarterly, Radical History Review, Journal of the History of Sexuality, Journal of Women's History, Salon, and Temple of Schlock, and he blogs about films shot in Newark and sexual politics at
https://strublog.wordpress.com
.
---
This free event is co-sponsored by the Queer Newark Oral History Project, the Women's and Gender Studies Program, the LGBTQ and Intercultural Resource Center at Rutgers University-Newark, the Department of African American and African Studies, and the Ironbound Community Corporation. Reception following the presentation.
Banner image provided courtesy of the Ironbound Business Improvement District