LGBTQ Educators Panel Discussion
Date

06/22/2022 - 12:15am




Want to learn more about the LGBTQ curriculum in New Jersey? Join the Queer Newark Oral History Project on June 22nd at 5PM (ET) for a virtual discussion with local educators about the implementation of the mandate as well as resources and ways to incorporate local history into classrooms.Panelists: Reginald Bledsoe, Melissa Mott, Alex Rosado-Torres, Danielle Scott and alum Lana Vercellino. Moderated by Kristyn Scorsone.

For more information and to register visit go.rutgers.edu/QNeducators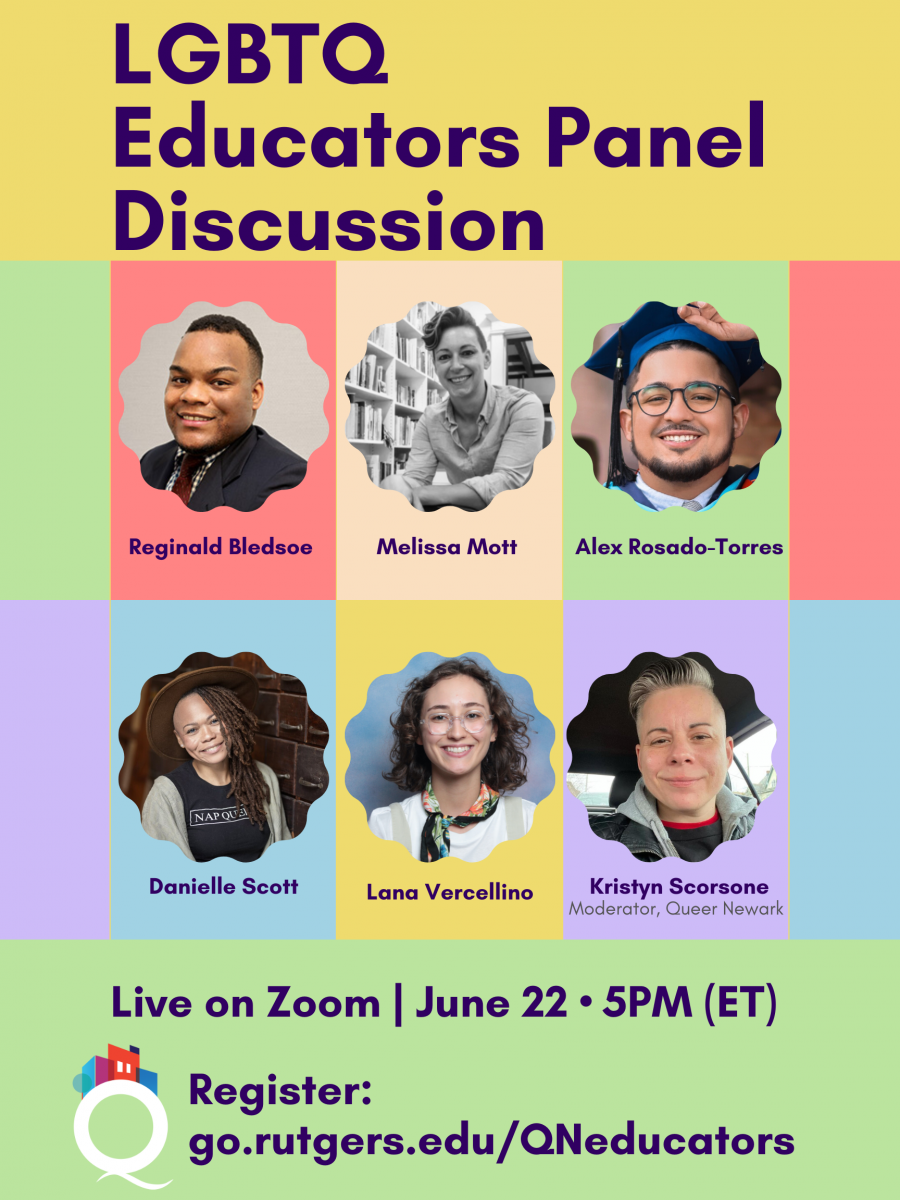 About The Speakers:
Reginald Bledsoe is no stranger to Essex County having been born and raised in Newark, NJ graduated from Essex County Newark Tech, elected as the youngest Democratic District Leader in District 5 of Newark's Central Ward and serving as a member of the Newark Board of Education from 2017 to 2020. He also received the Essex County Pride Award from Joe DiVincenzo, Jr. in 2017.

Reggie is the Director of the Essex County Office of LGBTQ+ Affairs, one of two offices in the State of New Jersey. He worked in Governor Phil Murphy's administration for four years, starting with the NJ Department of Education before transitioning to the NJ Department of Community Affairs. He also worked as a Legislative Aide to Essex County Commissioner President Wayne Richardson and former Freeholder President Blonnie Watson. He currently serves as a member of the NJ Performing Arts Center's LGBTQ+ Advisory Council.
Previously, Reggie served as an advisory board member for New Jersey Child Assault Prevention (NJ CAP), a statewide community-based prevention program, and a Legislative Aide to Newark Councilman Eddie Osborne. He also has served in various capacities with the Newark Municipal Government, High Park Gardens Cooperative Corporation and the late United States Senator Frank R. Lautenberg. He is a former member of the New Jersey Federation of Housing Cooperatives and the National Association of Housing Cooperatives, and has been on the Board of Directors for United Community Corporation, One Voice for LGBTQ Issues, and Newark Gay Pride.

Reggie is the recipient of numerous community awards. He was featured in Observer New Jersey's List of 50 Powerful Young Black Democrats in 2015 and as one of New Jersey's 30 Under 30: Political Up-and-Comers in 2016.

Reggie studied at Cheyney University of Pennsylvania before completing his studies in Political Science at Montclair State University and was elected as the first African American Male Student Trustee on MSU's Board of Trustees.


Melissa Mott (they/them) develops LGBTQ+ history curriculum and training as the founder of We Are History, which focuses on local-based LGBTQ+ history education, and is the Director for Echoes & Reflections, a genocide education program. A former 10th grade English teacher in Newark Public Schools and Fulbright scholar in Poland, Melissa studies the intersection of history education, collective memory, and anti-democratic thought.

Melissa has written curriculum and programs and trained educators on genocide pedagogy, inquiry-learning, human rights, and LGBTQIA+ history in the U.S., Kenya, Ghana, Israel, Poland, UK, and Germany. Melissa received their Ed.M. from Columbia University Teachers College in 2017, focusing on the link between LGBTQ+ history and collective trauma, and anti-LGBTQ sentiment in former Soviet countries.

Melissa trains teachers across New Jersey and New York on translating primary sources into education programs and curricula. They have worked with the Auschwitz Jewish Center, the Borderland Foundation in Sejny, Poland, History Unerased, and NYC LGBT Historic Sites, among others. Specializing in archival resources, oral history, and uncovering narratives that have been silenced, Melissa also holds an M.F.A. in Writing from Rutgers-Newark.

Melissa has presented for The Comparative International Education Society, National Council for Social Studies, and National Council on Public History, among others.
Alex Rosado-Torres (he/they) is a lifelong Newark native. They are a product of the Newark Public Schools and have since earned a B.A. in History from Rutgers University – New Brunswick and Ed.M. in Education Policy from the University of Illinois at Urbana-Champaign. He is currently working toward his PhD in the History of Education & Queer Studies where his research is focused on exploring the history of LGBTQ+ teacher and student activism, with special interest in the experiences of BIPOC Queer folxs. They are often using arts-based and oral history methodology to approach their research and teaching.

Danielle Scott is a mixed-media assemblage artist who grew up in Jersey City, New Jersey. Her work expresses politically and socially charged messaging. She recently received the 2021 Artist of the Year from ESKFF, which is the Eileen S. Kaminsky Family Foundation Artist residency Program in Mana Contemporary. Danielle Scott was featured in the 2021 Essence Magazine as one of the top LGBTQ artist to look out for. Her works were recently acquired by The Newark Museum of Art 2021, Roxane Gay, NYC Times best selling Author, and The Wiessman Family Collection.

A soft-spoken artist, Danielle has begun to use her art as a conduit to explore bold; fearless,thought-provoking work - work which draws its inspiration largely from her ownjourney and life experience. Her latest pieces are brazen offerings conveying the intensebeauty and wretched pain the artist absorbs from the world around her. Shecreates using photo montage, found objects, paint, raw materials, old books and collage.From vivid paintings to piercing photography to striking sculptures, all of Danielle'sartistic offerings aim to arrest the viewer and transport them away from the pretentiousand into a realm rooted in truth.

Danielle's Current body of work , "Berth-her" is a new series is giving life, voice, andstories to the silenced voices of women and girls of color. 

Lana Vercellino is a recent 2021 graduate of Rutgers University-Newark and NJIT with a Bachelors of Arts and Science in History, minoring in Urban Education. Currently, Lana teaches high school students in the Girls Division at Saint Benedict's preparatory school.

As a Newark native, Lana has revolved their work to serve their community through radicalizing educational structures, equipping young women of color with the necessary skills towards success, and forging access and education for food justice with the Price Institute. 

In their freetime, Lana also enjoys rock climbing, plant identification, and outdoor sports.

Moderator:
Kristyn Scorsone (they/them) is a PhD candidate in the American Studies program at Rutgers University-Newark where they study LGBTQ+ history, African American women's history, urban history, and public history. They are the volunteer manager for the Queer Newark Oral History Project, a community-directed initiative to capture the life stories of LGBTQ+ people in and of Newark, NJ. 

Their forthcoming dissertation, A Way Out of No Way: The Labor and Activism of Black Queer and Transgender Women in Newark, New Jersey, draws extensively on their research with the Queer Newark Oral History Project as they examine Black queer and transgender women's labor and related activism in Newark from the 1970s to the present. Since joining the project in 2015 they have conducted over two dozen oral histories, given numerous talks, oral history workshops, interviews, and presentations, designed and led Queer Newark walking tours, co-curated the 2017 traveling exhibit, At Home in Newark: Stories from the Queer Newark Oral History Project, and produced and hosted the Queer Newark podcast. 

Their writing has appeared in The Public Historian, History@Work, Notches, Out History, Out in New Jersey, and Los Angeles Music Blog. They will also have a chapter in the forthcoming anthology: Queer Newark: Stories of Resistance, Love, and Community.

They are available as a consultant for educators regarding using the Queer Newark Oral History Project as an important diverse historical resource to meet New Jersey's LGBTQ+ curriculum requirement.
---
This event was made possible by a grant from the New Jersey Council for the Humanities, a state partner of the National Endowment for the Humanities. Any views, findings, conclusions, or recommendations expressed in this event, do not necessarily represent those of the National Endowment for the Humanities or the New Jersey Council for the Humanities.