Free Oral History Workshops with Svetlana Kitto
The Queer Newark Oral History Project is offering two free oral history workshops led by Svetlana Kitto (bio below) on Friday, February 5, 2016. Oral history is a method of research that collects memories and stories of historical significance through recorded interviews with people who were involved in the events. 
The first workshop, "Introduction to Oral History," will run from 10:00am-1:00pm, and will cover key issues, such as: How does one plan an oral history project? What are some of the best practices for formulating interview questions? How does one identify a narrator? What are some of the ethical considerations that oral historians face when creating oral history projects? This will be an interactive, hands-on workshop.
The second workshop, "The Live Interview," will run from 2:00pm-5:00pm, and participants will put what they have learned into action and do an interview together, stopping to discuss strategies, theory, and next questions throughout.
These workshops are open to Rutgers University-Newark students, researchers, and community members. Feel free to attend one or both of the sessions. Lunch will be provided, at no charge to participants, from 1:00-2:00pm. REGISTRATION REQUIRED.
---
Svetlana Kitto is a writer and oral historian in New York City. For her graduate research in the Oral History master's program at Columbia, she collected interviews with queer artists, writers and activists about the AIDS crisis in the queer community in New York. Those interviews are now being processed to be part of the collections at the Lesbian Herstory Archives. She's also worked as an interviewer and teacher on the Brooklyn Historical Society's Crossing Borders, Bridging Generations years-long oral history project, which focused on the experience of mixed-race and mixed-heritage people in Brooklyn.
Her fiction, journalism and essays have appeared in Salon, VICE, the New York Observer, the Huffington Post, ART21, OutHistory, Plenitude and the books Occupy (Verso, 2012) and the Who, the What and the When (Chronicle, 2014). She has contributed interviews to oral history projects with the Museum of Arts and Design, the Mashantucket Pequot Museum, the Jewish Theological Seminary and the Brooklyn Historical Society, where she developed and taught a writing workshop called Racial Realities: Writing About Race in the First Person. She co-curates the reading and performance series Adult Contemporary in NYC.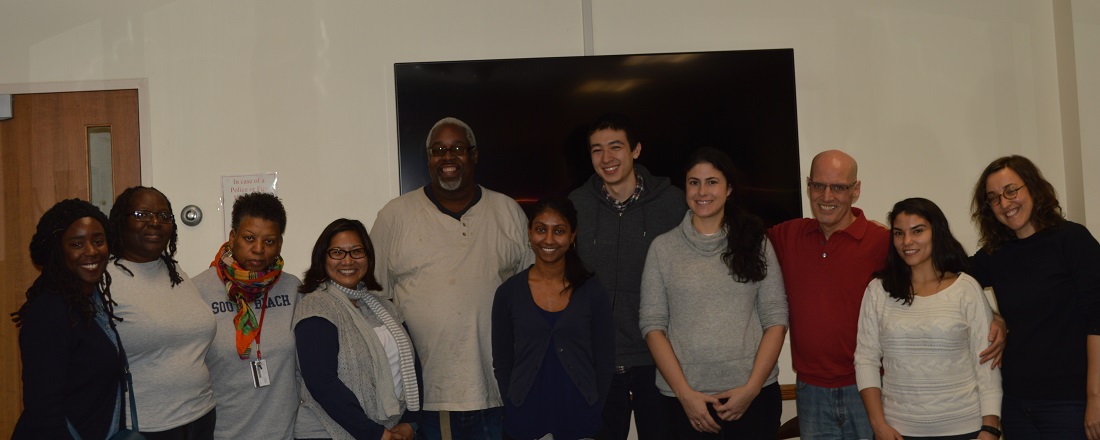 (Some of) the workshop participants at the end of a full day.
Click
here
for more images from the event.