Albert Mrozik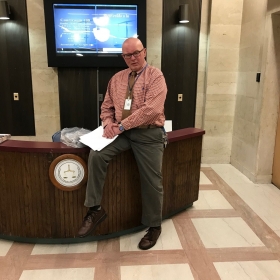 Interview Date(s):
Monday, November 20, 2017
Location:Newark Munincipal Court
Transcript(s):
Albert J. Mrozik Jr. ("Bert") is a proud member of the LGBTQ community, who has been instrumental in the fight for LGBTQ rights in New York and New Jersey. A graduate of Columbia College, he received his law degree from the University of Denver. While there, he was mentored by Dean Robert Yegge, who was openly gay. During Bert's education, he promised Dean Yegge that he would never compromise his identity as a proud gay man in his legal practice. He has kept his promise over the three decades he practiced as a lawyer in New Jersey's Asbury Park and Newark. Throughout his life, Bert actively advocated for LGBTQ rights and representation. He is a founding member of several organizations including the New Jersey Gay and Lesbian Lawyer's Association, New Jersey's Gay Officer's Action League, the Gay and Lesbian Community Center of New Jersey, in Asbury Park, and in 1993 was the first openly gay man appointed as a municipal court judge in New Jersey.  Since 1987, he has served as an Assistant Corporation Counsel  for the City of Newark. A member of the New Jersey State Bar Association, he is a past chair of the Municipal Court Practice Section. He also belongs to the New York, District of Columbia, Essex County, Patent Bar associations and the International Association of LGBT Judges. Currently, he resides in Cream Ridge with his partner Michael.
Bert's advice to all those who listen to him are be out, be proud, and be you.