Aleix Martinez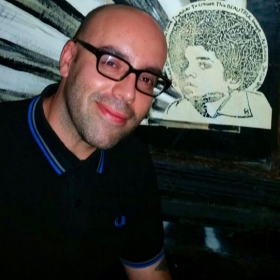 Interview Date(s):
Wednesday, September 6, 2017
Location:Rutgers University-Newark, NJ
Transcript(s):

transcript
Aleix Martinez is a longtime Newark resident, music industry communications specialist, and artist across multiple platforms. His work as a publicist in the music industry has focussed on representing and championing LGBT artists including Morrissey, Sia, Anohni, Scissor Sisters, Chavela Vargas, The Gossip, Nomi Ruiz, and Mika as well as singular artists like Santigold, Grace Jones, Tori Amos, Nancy SInatra, and The Cramps.
His art explores the intersections of ambition, luxury, hypercapitalism, and gentrification. His video work Insatiable, largely filmed in Newark,  debuted at Manchester Metropolitan University in the summer of 2017 as part of Manchester Pride.
 
Aleix Martinez is also a DJ of rock n roll subcultures who has created his own events in the NYC area for the past two decades.