Amina Baraka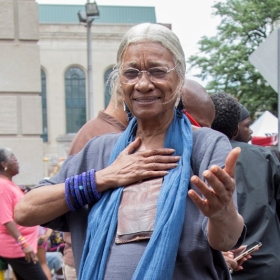 Interview Date(s):
Friday, March 2, 2018
Location:Residence of Amina Baraka
Transcript(s):

transcript
Born Sylvia Robinson, born 1942, in Charlotte, North Carolina – multi-talented artist (dancer, actress, singer/poet, and political activist).
Parents Ruth (garment worker) and James C Robinson were divorced when she was five. She was sent to her grandparents, Leona (domestic worker) and Patrick Bacote (construction worker). Sylvia grew up in Newark, New Jersey. She attended Arts High School where she majored in Art.  
Sylvia early in life developed a love and respect for the working class and the labor union movement.  
In 1960, Sylvia married Walter Vernon Wilson. They gave birth to daughters Vera and Wanda Wilson. Sylvia Wilson was one of the founding members of the Newark Jazz Art Society in 1963, a collective of artists: Art Williams (bass player and painter), Bill Harris (piano), Eddie Gladden (drum), and Tom White, owner of "World Wide," a shop of Halsey Street in Newark, sold art and furniture imported from Africa, Asia, Latin America and books on Black history. Sylvia wrote and performed dance drama. The "Loft" was located on 22 Shipman Street. The "Loft" later became the "Cellar." Artists came from everywhere for a period and was the center for Jazz and Art in Newark. Marion Brown, Sun Ra, Albert & Don Ayler. All the local musicians Herb Morgan, Jimmy Anderson, Leo Johnson, Larry Young, Freddie Roach, Charlie Mason, Tyrone Washington, Woodie Shaw, poets Gaston Neal, John Sinclair (poet/writer) from Detroit workshop along with Stanley Cowan (piano player), Charles Moore (trumpet player), Stanley Myers, local Jazz historian and poet. Painter and playwright Ben Caldwell, artist Freddie Stringer known as the Charles White of Newark. Sylvia while at the Loft began to attend Voters Information Council known as VIC, an organization of Black Newark politicians and community activists. Sylvia Wilson was in the Newark production of
Black Mass
, a play written and directed by LeRoi Jones.  
Sylvia later divorced her husband and joined the "Spirit House" (collective of cultural nationalist actors, poets, singers, writers, and visual artists) located at 33 Sterling Street, Newark, New Jersey. There she appeared in
Slave Ship
,
Mad Heart
,
Home on the Range
, plays written and directed by LeRoi Jones.  
In 1967, Sylvia and LeRoi gave birth to their first child Obalaji Malik Ali on May 31, 1967. The year of the Newark Rebellion, Obalaji was 15 days old. Their first son was baptized in fire! Later that same year Sylvia and LeRoi "jumped the broom" in a Yoruba Ceremony (officiated by Baba Oserjeman).  
In 1968, Sylvia and LeRoi Jones had become AMINA and AMIRI BARAKA. They were given the names Ameer and Ameena by Hesham Jaaber. Later Amiri translated to Swahili—Amiri and Amina. After Amina and Amiri gave birth to four more children three sons and one daughter (Ras, Amiri, Ahi, and Shani Baraka).  
Amina founded the African Free School, a liberation school for community children. Amiri Baraka formed the Committee for a United Newark (CFUN) after the Newark rebellion. Amina Baraka organized the Women's Division of the Committee for a Unified Newark. The women of CFUN worked side by side with men that led to the first Black mayor of Newark. These women played a key role in inspiration, education, and social development, spreading the ritual of Kwanza. The women created the "Malika Singers" and sang liberation songs. Amiri Baraka was now Imamu Amiri Baraka.  
Amina played an active role in the Congress of African People (CAP), a revolutionary nationalist organization. CAP focused on community organization, culture, African liberation, and the liberation throughout Africa, Asia, and Latin America. Amina led the Women's Division in CAP, and the women played an essential role. The women created a 24-hour day care center for the women in CAP, pre-school for working parents in the community, a dining hall for CAP members and the community. At the "Gary Convention" held in Indiana, women attended and worked typing, collating papers, providing childcare for this historic convention that led to the National Black Assembly.  
CAP women were an active member of the National Black Assembly (NBA), a Black Civil Rights organization around electoral and community politics which Amiri Baraka founded. CAP through work and study moved to the Left and became the Revolutionary Communist League (RCL), ideology of Marxism-Leninism-Mao Tse Tung thought.  
The women in CAP organized a conference "African Women United" at Rutgers University, Newark, New Jersey. National Liberation Movement from Africa, Caribbean, and Canada attended. In 1974, the women in RCL moved to call in continuation of the African Women Conference, an international women's conference under the banner of "ABOLITION OF EVERY POSSIBILITY OF OPPRESSION & EXPLOITATION" on July 5-7, held in Detriot, Michigan.  
In the 90's, Amina joined the Communist Party (CPUSA). She worked as a journalist for the Peoples Weekly World for a short time.  
Amina worked with her husband Amiri in BlueArk Poetry & Music. They created a house club "Kimakos-Blues People" where young and established artists (poets, writers, and musicians) gathered. Kimakos, which was named after Amiri's deceased sister, lasted 15 years. Kimakos closed after the death of Amina and Amiri's daughter. Shani was murdered on August 12, 2003.  
Amina's work includes the self-published chapter book
Songs for the Masses
and an anthology of African American women writers
Confirmation
, which was co-authored with Amiri Baraka. Confirmation includes writers like Johari M. Amini, Maya Angelou, Toni Cade Bambara, Amina Baraka, Brenda Conner-Bey, Gwendolyn Brooks, Lucille Clifton, Jayne Cortez, Alexis De Veaux, Mari Evans, Nikki Grimes, Vertamae Smart-Grosvenor, Safiya Henderson, Rashidah Ismaili, Mae Jackson, June Jordon, Abbey Lincoln (Aminata Moseka), Audre Lorde, Paule Marshall, Malkia M'buzi, Rosemari Mealy, Louise Meriwether, Toni Morrison, Aishah Rahman, Faith Ringgold, Carolyn M. Rodgers, Sonia Sanchez, Eleanor W. Traylor, Alice Walker, Margaret Walker, Michele Wallace, Sherley Anne Williams with an introduction by Amiri Baraka.  
The book cover for
Confirmation
was done by the artist Elizabeth Catlett.  
Amina performed song and poetry "I've got the right to sing the blues," which creates themes from history, politics, human struggle, women, and gay rights. Amina has performed along with Amina at community events, schools, jazz clubs, and theaters. Amina has performed internationally in Italy, England, South Africa, Colombia, Venezuela, and Nicaragua.  
Her poetry speaks of the love, struggle, hopes, tragedies, joy, and the perseverance, unwavering focus on self-determination of Black people and the international working class.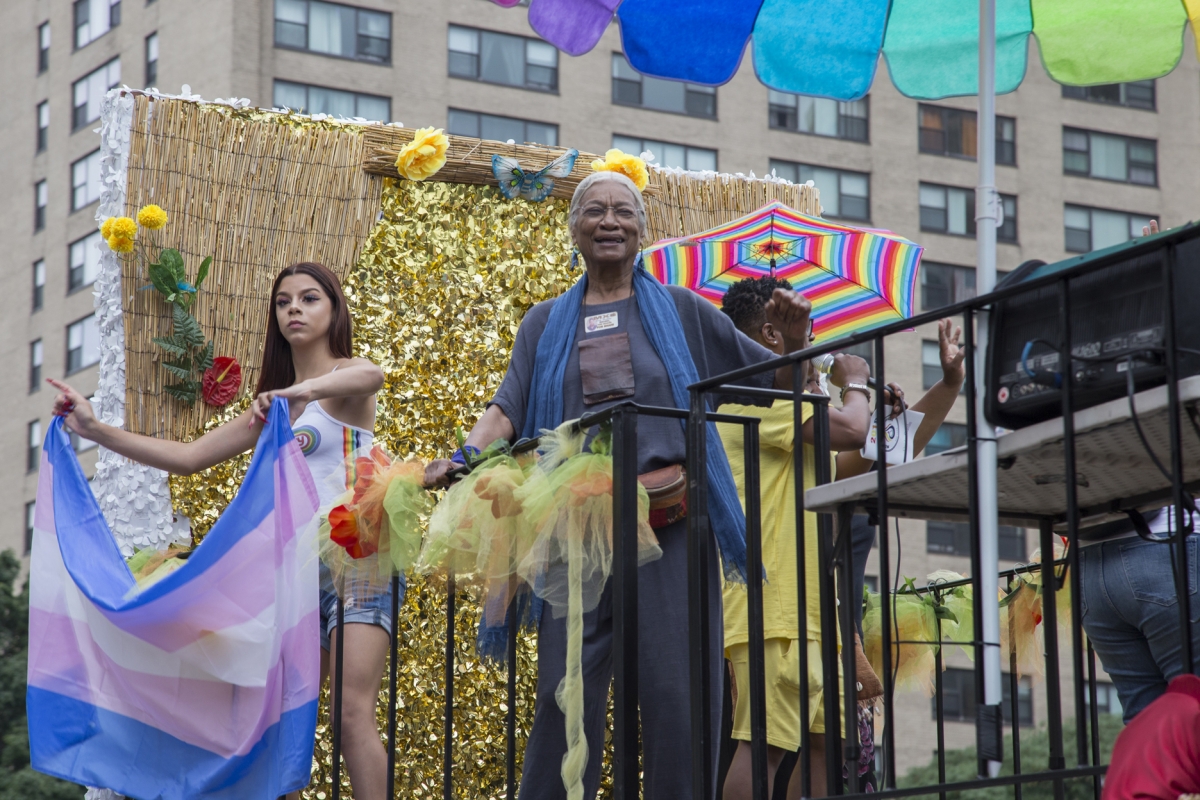 Amina Baraka at 2018 Newark Gay Pride Parade.
Links: