Beatrice Simpkins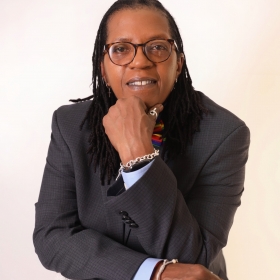 Interview Date(s):
Saturday, March 7, 2020
Location:Rutgers University-Newark
Transcript(s):

transcript
Beatrice Dolores Simpkins is an alum of Rutgers University-Newark. 

In 2016, Ms. Simpkins became a Rutgers University 250 Fellow – receiving a medal at the "A Day of Revolutionary Thinking", the culminating event of Rutgers' 250Th birthday celebration.

She serves as the pro-bono Executive Director of the Newark LGBTQ Community Center and is the Chief Program Officer for The Partnership for the Homeless, located in New York City. In 2021, Ms. Simpkins received the Equality Leadership Award from Garden State Equality and the LGBTQ-Police Community Partnership Award from the Newark Police Division. 

Her nonprofit leadership career began when she joined the historic work of the National Urban League through its affiliate, the Urban League of Hudson County. Her commitment to providing supportive and transformative human services focuses on addressing disparities in housing, health and human services, community development, social justice, and LGBTQ+ and gender equality. Beatrice spent years working in programs that addressed the intersectionality of HIV/AIDS, housing, and economic and social injustice in New Jersey and North Carolina. She is currently in a doctoral program at Saybrook University, seeking a terminal degree in Transformative Social Change. Beatrice is a cisgender, African American lesbian who uses the pronouns she/her/ hers. Ms. Simpkins holds a Masters Degree in Public Administration (MPA) from Rutgers School of Public Affairs and Administration and a Bachelor Degree in Business Management from the University of Phoenix.

Beatrice has two daughters, Evita and Cicely and three grandchildren - twin grandsons Darius and Demetrius and granddaughter Vivienne.