blair dorosh-walther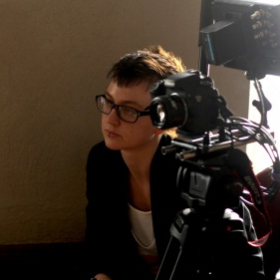 Interview Date(s):
Monday, October 12, 2015
Location:Conklin Hall, Rutgers University-Newark
Transcript(s):

transcript
Director and Producer, blair dorosh-walther
identifies as gender non-conforming and uses both male and female pronouns, is a social issue documentary director, experienced production designer, and artist with a passion for inspiring action for social justice through media. blair graduated with a BFA in Film from NYU and was awarded the Adam Balsano Award for social significance in documentary filmmaking.
Out in the Night
had its international premiere at the Los Angeles Film Festival June 2014 and has since been in over 90 film festivals. It has was awarded the Joyce Warshow Fund from Astraea Lesbian Foundation for Justice, a Special Jury Prize for Courage in Storytelling and Best Documentary – Audience Award from ImageOut Rochester, the Jury Award and Audience Award at the Seattle Lesbian and Gay Film Festival, Favorite Documentary at ReelQ Pittsburgh International LGBT Film Festival, the Jury Award at the ARC Queer People of Color Film Festival, the Audience Award for Documentary Feature at the New Orleans Film Festival, the Audience Award and Jury Award for Best Documentary at Image- Nation Montreal LGBT Festival and the Audience Award from the Baltimore International Black Film Festival. We have also partnered with the United Nations' Free and Equal Campaign to decriminalize homosexuality worldwide. Out in the Night is hir first feature documentary and will kick off the 2015-2016 season of POV on PBS June 22nd at 10pm.
blair has supported hir artistic career by working in direct care with adults living with developmental disabilities, mental illness, addiction issues, homelessness and HIV/AIDS for the past 12 years.