Czezre Adams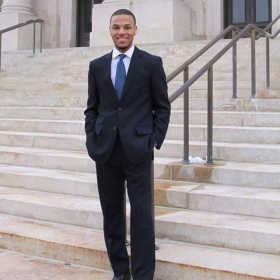 Interview Date(s):
Friday, April 28, 2017
Location:Rutgers University-Newark
Transcript(s):

transcript
Czezre Tyrell Adams known to many as "Porkchop" was born on August 8, 1989 to Angenette Ellis-Harper and Alvin Adams. Raised on High Street, Czezre attended community schools such as Sherman Preschool, Quitman St, and Louise A. Spencer where he was in the Gifted and Talented program before moving to Franklin, NJ. 
After graduating high school, Czezre attended Virginia Union University and then Essex County College obtaining a degree in Social Sciences. While at Virgin Union University, Czezre was apart of the Constitution Committee, President of his dorm, and served as the 1st President of the Young Democrats of America (VUU Chapter). After his graduation from Essex County College, he immediately got involved in the education field in Newark as a Teacher's Aide and later as a Substitute Teacher. His last and most memorable job was working with Autistic children at Central High School for the 2014-2015 school year. But his fight didn't stop there. He became an active and vocal leader of his community. Fighting for local school control, HIV/AIDS Prevention and Awareness, LGBTQ Homelessness, Equal Rights for LGBTQ, Marriage Equality, and Police Reform.
In 2014, Czezre became the youngest, openly gay candidate in the state of NJ and city of Newark when he ran for City Council. Though not victorious, his courage and progressive ideas opened eyes of many. In his concession speech, Czezre promise to keep fighting for Newarkers and that promise he kept when he accepted the offer from the Newark Police Department to become an officer. He was hired in September 2015 and graduated March 2016. Still employed with the department, Czezre has already received several awards due to his work while on the force. But his greatest accomplishment came in February when a interview of him was released by The Advocate "
What It's Like to Be a Black Gay Cop
." In 2014 Czezre was honored as being and up and coming political power 30 under 30. Czezre has received numerous awards from the city of Newark, city council, state of nj, senators, Congress people, and pride network such as leadership awards, courageous awards, Pioneer awards, mentorship, and etc.