Douglas Says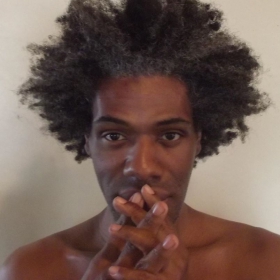 Interview Date(s):
Wednesday, September 28, 2016
Location:
Transcript(s):

transcript
There's an impressive résumé attached to the name
Douglas Says
, which includes working with a list of celebrity photographers such as;
Mike Ruiz,
Fadil Berisha, Alex Chatelain, Ghillian Lewin,  Marc Baptiste, Dah Len, Keith Majors, Anthony Barboza, Joe Grant, Ernest Collins, Martha Camarillo and Jerry Jack. It is often said by stylist, that Douglas Says… is one of the most important, yet under exposed designers around. Douglas is one of the undergrounds, best kept secrets! He's a classically trained designer, with knowledge of fashions historical pass, yet firmly looking forward into tomorrow land, and his clothes reflect his understanding. Garments of Douglas Says have appeared on B.E.T's popular fashion showcase titled "R.I.P the runway" in 2006 premiering alongside Steve Harvey's suit collection, and again in 2009 with the introduction of Douglas's full figured collection, titled "Plus U". Leaving many still talking about his initial launch for Plus U in 2008, which many considered a fresh, new direction, for the full figured market.
In 2007 the "Museum of The City of New York" held what was hailed as "A groundbreaking Exploration of Hip-Hop and Style entitled 'Black Style Now' with Douglas Says being one of the chosen designer's included in their lineup. Followed by "Thurgood Marshall" Scholarship Funds, annual fashion show which has showcased the work of Douglas Says two years running 2007 and 2008.  
There have been several indie films that Mr. Says clothing has appeared in, such as; "Smooth the Game Is Dead", "Don't Go to Strangers" and "The System Within". Throughout the years Mr. Says work has quietly been witnessed inside and outside (covers) of magazines, on celebrities, television, movies, even on the news. His work has also appeared in a few hardcover books like, "Mainhattanmanhattan" published in Germany, NYC Go-Go by Slava Mogutin, and "The way we wore" by Michael McCollom. In 2009 Douglas himself became an author with his book release titled "Amuse" and once again in 2013 with his second love child titled "The Red Dress", both, based on his clothing designs and the intimate relationships between him and his models.
Douglas says it's his mission to remove as many of the old taboos about jersey / stretch fabrics, like them not being kind or friendly to fuller figured body types, like everything else it just has to be cut with your body in mind. I am aware that real women have curves, and that we as designers need to accept that fact, lending a helping hand in projecting their curves, not hiding, deny or flat out ignore them. I've long since turned off the answering machine; and I'm able to answer their calls. In fashion no one should have to sacrifice quality and or fit, not when Douglas Says… is presenting women with two gifts, the first being choice and the second being my signature shapeables "Douglas Says "makes clothes like he's hugging a woman and saying I love you!"