Kevin E. Taylor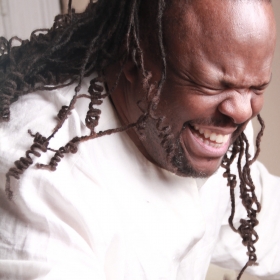 Interview Date(s):
Saturday, December 9, 2017
Location:Newark LGBTQ Community Center, NJ
Transcript(s):

transcript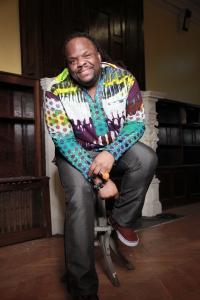 Kevin E. Taylor is working on his greatness while he inspires you to walk in yours! He's a noted author (JADED, UNCLUTTER, BECAUSE HE LIVES, IT'S TIME FOR SOME ACTION, ENVY: the darkest shade of green, GET OFF YOUR ASS AND DO SOMETHING and MEET THE HENDERSONS). He's a pastor (Senior Pastor of Unity Fellowship Church NewArk now and Unity Fellowship Church New Brunswick for 12 years). He's a writer and producer for television (22 years in television and more than 20 years running TaylorMadeMultiMedia (TM3), his own video production company. He is a lecturer/empowerment speaker, who has spoken at colleges, universities and community groups for the last 20 years, and he has also been conducting a series of workshops on everything from pitching a TV show idea to uncluttering your life. "It seems like I'm a multi-tasker who's got too much on his hands, but I'm successful at it because I don't try to do it all at one time. I know how to focus on each task at hand. It's about balance."


Brought up in and raised well by his mother in the projects of Washington, DC, but directly across the street from condos housing powerful lawmakers and business owners, the juxtaposition made him a dreamer. From an early age, Kevin E. Taylor knew that better was available for him. "I remember finding a pocket dictionary in the trash. I would learn a new word everyday. People thought it was crazy, but I knew I would need those words. I knew that there was a power in those words."

Those words came in handy when Taylor applied for college and his English essay is what got in him into several schools. Those words helped the English student, who also studied primarily in Accounting and Spanish. Those words helped when he transitioned from a safe municipal position as a Budget Analyst to Black Entertainment Television (BET) and soon became a producer, where he interviewed such icons as Tina Turner, Maxwell, Stevie Wonder, Luther Vandross, Sade, Diana Ross, Lenny Kravitz, Patti Labelle and later her reunited group Labelle and his personal favorite Natalie Cole, with whom Taylor developed a personal relationship and later did research for and wrote the discography to her 2000 "Angel On My Shoulder" autobiography, which later became an award-winning NBC made-for-TV movie. During his tenure at BET, Kevin created such shows as ACCESS GRANTED, TESTIMONY, LYRICALLY SPEAKING and NOTARIZED, which gave the network its highest day-ratings in its history in 1999 and where he won a Gold World Medal for International Programming for a special (24 HOURS WITH DRU HILL) and a pair of NAACP Image Award nominations, competing against himself in 2001 for his Aaliyah episode of ACCESS GRANTED and his interviews with Mariah Carey and Mary J. Blige for TESTIMONY. Taylor also wrote biographies for projects or featured articles on Anita Baker ("Rhythm of Love" and "My Everything" cd releases), Shai, Jon B., Jennifer Holliday (cover story for REAL magazine), Rachelle Ferrell (The Black Guide) and Tina Turner for the 1996 cover feature of Sister2Sister magazine. Taylor has also done EPKs (electronic/video press kits) for various record labels and recording artists.
Now, Taylor is hosting his own show/webseries (with the help of Kickstarter and a strong following) called NOW WHAT?! WITH KEVIN E TAYLOR. The crowdfunded online series has featured the likes of singers Rachelle Ferrell, B.Slade, Kenny Bobien, Jessica Betts and Kelly Price, actor and playwright Keith Hamilton Cobb, RHOA stars Cynthia Bailey and Peter Thomas, renowned choreographer Desmond Richardson, model/actor/fitness expert Garrain (Steph) Jones, author Victoria Schmidt, wellness icon Queen Afua and many more. The new season of the show will take Taylor on a cross-country tour and will be a series of speaking engagements with featured live interviews and community engagement.  Taylor recently released his own autobiography, titled NEVER TOO MUCH: this is my story of big words, big dreams and an audacious big life!