Lioniemar Reyes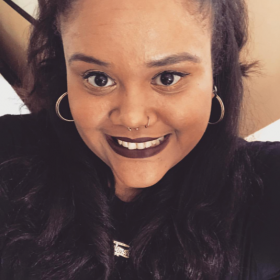 Interview Date(s):
Saturday, October 26, 2019
Location:Rutgers University-Newark
Transcript(s):

transcript
Lioniemar Reyes, Lily,  is a  peace love and positivity, protector of individuality, energetic soul.  She is a 90's baby who grew up in Newark, New Jersey.  She and her brother were raised by two proud and hardworking Puerto Rican parents.  She attended Middle School and High School at North Start Academy Charter School of Newark and went on to study Psychology and Theater at Rutgers University-Newark Campus.  She is constantly learning every day who she wants to be in this world, that of which is constantly changing.  She has been a Library Assistant, Peer Educator, Mentor, Teacher's Assistant, Administrative Assistant and is currently a Paralegal and the Chugh Firm as an Immigration Paralegal.  She can't wait to see what the world has in store for her next, but one thing is for sure, she will always have a passion for protecting ones right to individuality.