* Lovari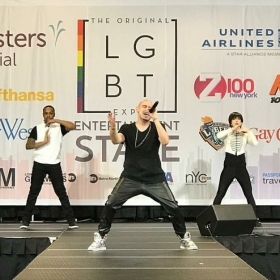 Interview Date(s):
Friday, July 28, 2017
Location:Rutgers University-Newark
Transcript(s):

transcript
Born and raised in Queens, and now a resident of Newark, singer/actor
Lovari
has released his new album "The Rhythm Of Life" (currently on Amazon's Bestseller Soul Chart). A collection of twelve original songs and two remakes, including the title track and Mariah Carey's "Around You", the project is inspired by the sounds of the early 90s r&b/pop genre. The single "Crush On You" reached #2 on SpinReports' R&B chart and the music video "Paparazzi" was featured in the Top Ten of I'm So Newark Short Film Series Contest. 
Lovari's 2017 film projects include a "Peace Of The Action" as the character of  Barnabas with screenings at Newark's Cityplex 12 Theater. His co-starring role in "The Underachievers" begins production this Summer, as well as the drama film "Moth."
Lovari reached #1 on both iTunes & Amazon R&B New Releases Chart with the single "Still In Love (feat. Anny Jules)", from his album "No Holding Back".  
​
Additional highlights from the album included:
Foolish Beat -  featured on PerezHilton.com
Keep It Movin' -  Amazon.com Top 40 R&B Singles Chart & Top 30 Digital DJ U.S. R&B Chart
Still In Love (feat. Anny Jules) -  #1 on both the iTunes and Amazon R&B New Releases Chart
Take It To The Top-  featuring Robey, star of the Emmy winning TV series "Friday The 13th" 
In 2015, a remix album "I Wanna Be Loved" reached the Top 50 iTunes U.S. Dance Album Chart and the Top 40 of Amazon's Electronica Albums Chart. Highlights from the album include:
Touch Me (feat. Robin Byrd) - Reviewed on FOX's Good Day NY & The NY Post Page Six Gossip. Robin Byrd is listed in Entertainment Weekly Magazine as one of the "Top Ten Talk Show Hosts Of All Time", as chosen by Andy Cohen.
The Floor (feat. David Eric) - #1 on OnlyLyrics.com Dance Chart ; featured on MTV.com
Right Here - The music video is featured on MTV Artists. 
In 2016, Lovari released his first bilingual track, "Te Siento." It is currently his most successful single to date, reaching half a million views on YouTube, FM radio play and several chart placements (#1 on Funkmaster Flex's Franchise Record Pool R&B Chart).

ACTING
*Shore Thing - Winner - Best Suspense - NY International Independent Film Festival-
Lovari wrote, co-directed, co-produced and starred in this film, based on shark attacks that occured in NJ in 1916. For the 100 Year Anniversary of the actual attacks, the film was showcased in Matawan NJ for "Shark Centennial" - the site of three of the attacks.  

Lovari's acting credits include the Funny Or Die series "The Chris Kepford Show," in a recurring cast member role as Benji. He also co-starred in an episode of Discovery ID's third season of "Dates From Hell" in the episode "Just Between The Three Of Us."

​SPOKESPERSON
Lovari is one of the official spokespersons for Headstrong NY. In 2015, News 12 profiled and interviewed Lovari in a segment about the company and included his music videos in the featured story.