Lynette Lashawn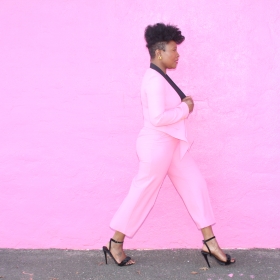 Interview Date(s):
Thursday, January 19, 2017
Location:Rutgers University-Newark
Transcript(s):

transcript
THE BEGINNING
Inspired by the fashion her Mom and Grandparents wore Lynette's interest began at a very tender age. The love she developed for fashion served as an outlet and  unquestionable conduit for self-expression. Fueled by her evolving obsession with european fashion, luxury designer pieces and unique furniture, Lynette conceptualized a Fashion & Decor Studio with her partner. Off The Hanger/Anè (created 7.5 years ago online) was designed for women and men to shop for their wardrobes and homes simultaneously. 

FAST FORWARD to Off The Hanger
11.1K Instagram followers and growing, a feature in Vogue, Essence and a host of others. Lynette's studio provides a fabulous and cutting edge shopping experience for new and existing customers who shop to stand out. Lynette's studio is one of Newark's distinctive fashion destinations where Art and Decor Collide. Her edgy style and creativity serves as fashion vessel to edify everyday women/men on basic style principles as well as how to mix and match mass market fashion with high end designer without breaking the bank. Basically she teaches others how to look incredibly FLY on a cute ole dime.
Motto: Don't dress like the rest of them darling, be your own muse.

EDUCATIONAL BACKGROUND
Lynette attended Newark Public Schools and later obtained a Paralegal degree at Essex County College while working as a Paralegal for the City of Newark's Law Department, in the Labor and Litigation sections. After leaving the Law Department, Lynette began her stint at the State of New Jersey's Board of Public Utilities as an Investigator. During her transition from City to State, she obtained her Bachelors of Art and Master's of Arts from Thomas Edison State University, graduating at the top of her class.
FASHION INDUSTRY
Digital Influencer | Style Expert | Brand Ambassador and  Philanthropist with a distinctive sense of style.
15+years in the Fashion Industry. Lynette has coordinated fashion shows, organized style presentations, created a Fashion Moment for Newark's Lincoln Park Music Festival, worked backstage as a Stylist for Mercedes Benz Fashion Week, Nolcha Fashion Week and hosts of other Fashion Week Productions in New York City. Lynette has covered Essence Style Block Party in Brooklyn and other events as a Media correspondent with published videos and write-ups. Lynette has also styled clients for TV interviews and TED Talk. In 2014 her talents and east coast connections landed her backstage at London's Fashion Week in the Somerset house. She has been featured in several publications from Vogue and Essence Magazine, Fashion Bomb Daily (with 1 million followers), Curly Nikki (with over 46.3k followers), Global Couture (with over 25.1k followers) and a host of other cutting edge, trending industry blogs and websites.
 
TO DATE
Lynette continues to provide image consulting /styling/interior services at Off The Hanger. She also serves as a Brand Ambassador for WholeFoods Newark, produces lifestyle content for her fashion/business services company, http://www.lynette-lashawn.com. In addition, Lynette is currently working on a "Newark Has My Heart" Campaign along with the debut of her new fur line "VAULT."
 
FEATURED
    Vogue
    Essence
    Fashion Bomb Daily
    Womeneur
    Curly Nikki, Natural Hair/Fashion
    Transitioning To Natural
    Exude Magazine
    Brick City Live
    Newark Bound Magazine
    Global Couture Blog