Margaret Woods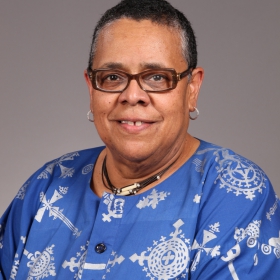 Interview Date(s):
Thursday, April 21, 2016
Location:
Transcript(s):
Margaret L. Woods is currently the President/Chief Executive Officer of Independence:  A Family of Services, Inc., a multi-service agency serving high risk, socially disadvantaged youth and families residing primarily in the Greater Newark area.  She is the former Associate Director of the New Jersey Governor's Committee on Children's Services Planning.  In addition, she has served as the Executive Director of both Tri-City People's Corporation in Newark, New Jersey and the Partnership for Neighborhood Safety, Inc. in New York City.  She is a former staff member of the National Council on Crime and Delinquency's Office of Social Justice for Young People.
Ms. Woods has dedicated both her personal and professional lives to the fight for social justice for people of color, poor people, the mentally ill, juvenile delinquents, women  in prison, ex-offenders and sexual minorities.  She has accumulated over forty years experience in the juvenile justice, mental health, education and behavioral health fields.  She is a 1999 graduate of Leadership New Jersey.  
She has served, and continues to serve on panels that address issues dealing with policy and programming in juvenile justice, education, child behavioral health and public assistance. She was an inaugural member of the City of Newark's Lesbian, Gay, Bisexual, Transgender and Questioning Concerns Advisory Commission. She was instrumental in the formation and implementation of Community Child Welfare Collaboratives in Essex County, New Jersey.  The Collaboratives were the precursors of the New Jersey Department of Children and Families Family Success Centers.  
She attended Wilson College in Chambersburg, Pennsylvania where she obtained a BA in Sociology.  She later attended the New School for Social Research in New York.  
Ms. Woods is a member of the following boards and committees:
Essex County Youth Services Commission 
Newark Emergency Services for Families Board of Directors 
The City of Newark's Mayor's Youth Policy Board 
The State of New Jersey Department of Children and Families Lesbian, Gay, Bisexual, Transgender, Questioning, Intersex Youth Committee 
Essex County Model Court Advisory Committee