Marleny Franco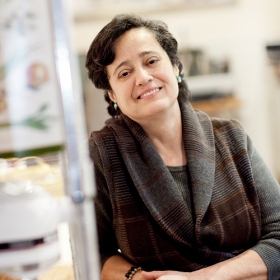 Interview Date(s):
Saturday, November 19, 2016
Location:
Transcript(s):

transcript
Marleny Franco has been a Horticulturist helping people grow food for over thirty-five years.  She holds a Master's degree in Plant Physiology from Rutgers University and worked as an Agricultural County Agent and professor at Rutgers University for eleven years before moving on to establish and run an environmental horticultural non-profit organization called: Greater Newark Conservancy. 
Through her work with the Greater Newark Conservancy she was successful in encouraging thousands of individuals to garden across the state and other locations within the US.  After twelve years, she decided to move on to establish her own landscaping design and installation business, Grace Enhancement & Landscaping with a focus on organic landscaping and the creation of natural landscapes (now a part of Gardening The Organic Way LLC).
She recently started an organic gardening blog that provides easy-to-follow instructions on how to grow a large variety of fruits and vegetables. Her goal is to reach the public at large, and anyone who has an interest in individually growing their own organic foods.  She believes gardening is a true revolution that allows us to restore our soil, our health, and brings us closer to nature.  All this while diminishing our carbon footprint and, in turn, rid the earth of toxicity.
 
Gardening the Organic Way provides a detailed, step-by-step approach on how to create and maintain an organic garden, thus enabling the reader to serve healthy, home-grown organic produce to their families.