Tamara Fleming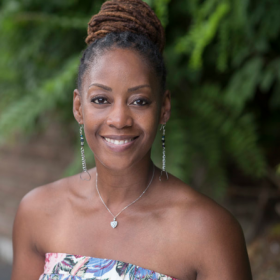 Interview Date(s):
Wednesday, December 21, 2016
,
Thursday, January 26, 2017
Location:Rutgers University-Newark, NJ
Transcript(s):

transcript for interview 1.pdf
,

transcript for interview 2.pdf
Tamara Fleming
is a creative powerhouse and co-founder of FEMWORKS, an award winning marketing communications firm that specializes in helping businesses to engage consumers in multicultural markets. Fleming's industry experience, keen creative eye, attention to detail and the foundation that encouraged her to co-found FEMWORKS. In addition to her work in creative production and the news industry, Tamara Fleming is also a published photographer. She has a driving passion to create images that positively represent African-American, Latinos, urban communities, and the LGBT community. Fleming has also produced thousands of quality stock images that are used to enhance business and non-profit collateral. Mrs. Fleming is the founder of Expoz(HER), a personal development based program that uses photography as a vehicle to empower young woman and girls with a new way of thinking about who they are and the impact they have in their life and the lives of others in their community. This international program has made many positive influences for young women and girls worldwide, from Africa to Newark NJ to Haiti and it continues to promote self-acceptance and confidence through photography, the arts as well as a blend of other resources.