Terri Suess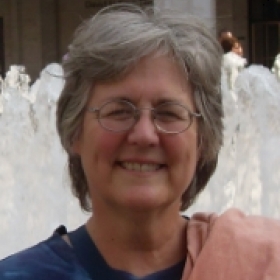 Interview Date(s):
Wednesday, December 7, 2016
Location:Rutgers University-Newark
Transcript(s):

transcript
Terri was born and raised in Seattle, Wa. and has made Newark, NJ her home with her life partner. She studied communications at the University of Washington, Seattle and worked several years as a journalist in the Pacific Northwest. In the mid-70s, she moved to New York City to earn a Master's Degree in Urban Affairs and public policy from City University of New York, Hunter College.
As a young person, she saw the power of community organizing in Seattle, when neighbors circulated petitions to stop freeways, marched against the Vietnam War, Saved the Pike Place Market and voted to fund a county-wide mass transit system.  In New York City, she worked with people across neighborhoods to fight against city budget cuts, to keep subway stations and branch libraries open. In 1979, she moved to Newark to work as a researcher and community organizer with the Newark Coalition for Neighborhoods.
As a beneficiary of public systems, Terri is strongly committed to saving and improving, for future generations, publicly-owned utilities, libraries, schools, housing, health care, transit, parks and recreation. In 2000-2013 she was part of the successful citywide fight to keep Newark's water-sewer system public. In 2010 she worked with other library patrons to try to reverse Mayor Cory Booker's disastrous 40 per cent library budget cuts.
Terri has made her living as a journalist, researcher/organizer, technical writer, and as an adjunct professor of English. She served on the board of New Jersey Peace Action and is a past President of the Essex County Ethical Culture Society. She also studied art at The Free Association, The Newark School of Fine and Industrial Arts, The Art Students League and has exhibited paintings in New York, New Jersey and Seattle.
Committed to social justice, equality and diversity; non-violent conflict resolution and world peace, she hopes to one day see "Peace & Justice Energy," to roll back climate change and to build a zero-carbon economy, based on renewable energy and energy efficiency.