Tracey Africa Norman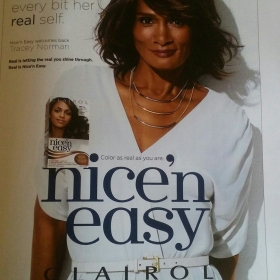 Interview Date(s):
Monday, October 31, 2016
Location:
Transcript(s):

transcript
In 2017 the name Tracey Africa Norman has become synonymous with terms like "full circle and comeback kid". Tracey's modeling career got started, all because she was in the wrong place, at the right time. She'd accidencely wandered into a model casting for the European designer Basile, as luck would have it, Tracey got the booking. Along with several other NYC top models, such as Peggy Dillard, Jennifer Price, Pita Greene and Romney Russo each were featured in this Basile fashion layout, photographed by Mr. Irving Penn, for Italian Vogue.
No doubt we've all heard of the "IT" factor, and if anybody knows what that "IT" factor consist of, then it would most certainly be the legendary, internationally renowned photographer Mr. Irving Penn. For it is he, that place a direct call to Zoli, (then one of NYC's top modeling agencies about his new find), Ms. Tracey Gayle Norman.
Unbeknownst to anyone on this historical set, but true history had just been made, in more ways than one. Tracey was quickly signed with Zoli modeling agency, and immediately sent out on direct bookings. For clients, such as designer Patrick Kelly (then based in NYC), wig master Andre Douglas, Avon, Clairol, Ultra Sheen cosmetics, and Essence magazine, too name a few.
Wikipedia is yet another true measure of one's success, Wikipedia states
Tracey "Africa" Norman
is an American model. Norman was the first
African-American
transgender woman
model to appear on a box of
Clairol
in the 1970s. Originally from
Newark, New Jersey
, Africa has modeled and been photographed for such publications as
Essence
,
Vogue Italia
and
Harper's Bazaar
India. Norman also had a magazine cover and life story spread in
New York Magazine
.
Marie Claire South Africa, Us magazine, People.com/style, The Guardian, Refinery 29, Madamenoire, Huffington Post.
Before the New York magazine coverage Tracey was beginning a career as a makeup artist and fashion stylist. When asked what's next, Tracey says, "I have no idea, I never planned any of this, all I ever really wanted was to live a quiet and respectful life, I never realized that at some point I'd be considered a role model. However, in reflecting over my past achievements, my best friend designer Douglas Says and New York magazine made me realize just how significant my past work was, highlighting the fact that I was the first Trans-women to have successfully worked in the fashion industry as a model, then to have been a Black woman at that."
Many of today's lovely Trans-stars, such as: Laverne Cox, Janet Mock, Lea T, Andrej Pejic, Valentijn de Hingh, Carmen Carrera, Teri Toye and Tula. Have outwardly credited Tracey for her earlier work which helped to encourage and inspire them forward. Which is wonderful to hear and know, because I must admit that my whole life was turned upside down for many years, after the hateful outing, which ended my career.  I've always been a very private person.
I've never had too many people around me posing as friends, my friends were from my youth, and they'd all moved away.  During that time frame, I'd pretty much became a shut in, in my own private world, thank God for my family's support.
Thankfully I've always been very spiritual and so around 1986, God sent me a friend named Douglas, who slowly helped pull me out of the dark place I'd shut myself off into. Together, we slowly started doing simple things again, like laughing, putting on makeup, and telling my story. I suppose he became like my therapist and my friend. Because, unbeknownst to me I had developed major trust issues and insecurities.
However, through my friend Douglas, (who was then an up and coming fashion designer,) I slowly started getting back out into the world. Every now and again we'd venture out to a club or two, it was always shocking to see how people reacted when they saw me, I had no clue. Over time Douglas and I rebuilt my confidence back up, and in no time, he had me back out there, walking in his fashion shows, as well as back in front of the cameras again, doing photo shoots and his ad campaigns. Therefore, throughout the 90's, I suppose you'd say, he and I were a dynamic underground fashion duo, working and turning out amazing images with a host of African American photographers. I was comfortable being his muse, and working alongside my best friend.
Earlier career highlights:
In 1990-91 Tracey filmed a public announcement for GMHC on Aids Awareness, made for NYC cable.
In 1992 at 40 years old Tracey participated in the Sally Jesse Raphael fantasy pageant (of Trans-women) and won!
Throughout the 90's she's appeared in several indie films, such as: the German made film "My Fathers Coming", Don't Go to Strangers", and more recently "How Do I Look".
Throughout her time spent in fashion Tracey became known for her floating, graceful, runway ease. Which she also applied to her Ballroom appearances, later becoming the mother of the "House of Africa"!
Tracey has also appeared in the stage production of "The Colored Museum," as one of the talking wig heads. She was featured in Clairol Nice 'n Easy
Real Color Stories with Tracey Norman
.