Carol Glassman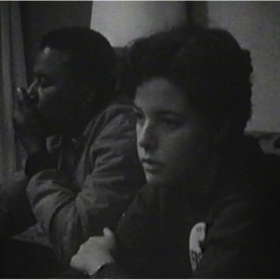 Interview Date(s):
Thursday, December 4, 2014
Location:New York, NY
Transcript(s):

transcript
Carol Glassman was born in Brooklyn in 1942 to a first-generation large Jewish immigrant family. She went to public school and then Smith College, where she got involved with the student movement that became known as the New Left. Her activism eventually brought her to Newark, where she was a central member of the Newark Community Union Project (NCUP), part of the Students for a Democratic Society-led effort to organize in poor communities with the eventual goal of creating an "interracial movement of the poor."
In this oral history, she discusses coming into her lesbian identity in the context of NCUP, her relationships in Newark and beyond, and the broader sexual politics of the New Left. In 1968, after the 1967 Newark rebellion and  the rise of Black Power, Carol and other white activists moved out of NCUP's base in Clinton Hill (in the South Ward) and into the Ironbound, to organize poor and working class whites. That organizing led to the development of the Ironbound Community Corporation and Independence High School. She returned to school to earn an MSW. She relocated to New York, worked as an educator at Rutgers and NYU and she continues to practice as a clinical social work therapist.   
Carol wrote for the New Left press, contributed an essay to the pioneering feminist anthology Sisterhood is Powerful (1970), and has published scholarship on lesbians and HIV, among other accomplishments. She is featured in the 1966 NCUP documentary Troublemakers (dir. Robert Machover and Norman Fruchter), and in 1971 shot a cover photo of Newark's Ferry Street in the Ironbound for the feminist magazine Up from Under, pictured below. She earned her doctorate in 1991 from Columbia University School of Social Work. Her thesis focused on gay male couples coping with AIDS. 
She also recorded an oral history about NCUP in 1965, housed at NYU's
Tamiment Library and Robert F. Wagner Labor Archive
. While it cannot be accessed online, its transcript makes for a fascinating contrast to her Queer Newark oral history, reflecting its era by not probing into matters of sexuality.