Janyce Jackson Jones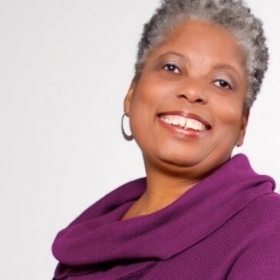 Interview Date(s):
Wednesday, March 9, 2016
,
Friday, May 13, 2016
Location:Newark LGBTQ Community Center
Transcript(s):

Interview, part I
,

Interview, part II
Reverend Janyce Jackson Jones, a prominent and respected leader in the community retired after 21 years of dedicated service to her church and to social justice in the city of Newark.
 
Janyce L. Jackson Jones served as Co-Pastor of Unity Fellowship Church located in Newark, NJ.  UFC Newark, is a member of the non-denominational Unity Fellowship Church Movement, a Social Justice Ministry that seeks to minister to all people, regardless of race, gender, gender expression, sexual orientation, or ethnicity.
 
Prior to Co-Pastoring at UFC Newark, Reverend Jackson served for eight years as Pastor of Liberation in Truth Unity Fellowship Church for which she is a founding member when it was established in 1995. During her tenure as Pastor she also served as the Executive Director of the Liberation in Truth Social Justice Center.  The Social Justice Center served as an arm to the social justice work of the church and provided programs and services that included support groups, meals, HIV/AIDS education and prevention services, LGBTIQ youth and young adult life basics classes and drop in center, mental health and other spiritual and social service programs.
 
Rev. Jackson Jones's influence has reached far beyond the church.  She is a community activist fighting for justice. She was at the forefront in the fight for marriage equality for same-sex couples and is fervent advocate for women and children's rights. She was an inaugural member and served as Vice Chair of the LGBTQ Advisory Commission of the City of Newark.  In 2013 after a distinguished career of advocacy work she galvanized the community once again to establish Newark's first LGBTQ Community Center.  She was appointed the Executive Director and served in that capacity for 3 years.
 
Over the years Rev. Janyce has been recognized for her tireless efforts in the pursuit of social justice.  She is the recipient of the 2006 Newark Pride Award, the 2011 Star of Essex County award from the Essex County Executive, and 2012 Community appreciation award for her work in community.  She has also served on numerous boards of organizations including the GRIOT Circle in Brooklyn, NY, which seeks to support the aging members of the LGBTQ community, as well as the Newark School of Theology, the Pride Council of the New Jersey Performing Arts Center, and the LGBTQ Sub-committee of the Newark Youth Policy Board. She was also a member of the Mayor's Clergy Affairs Board.