Kiyan Williams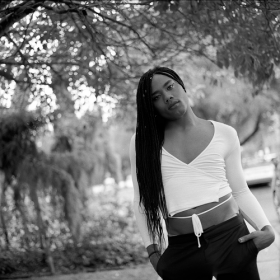 Interview Date(s):
Friday, October 11, 2019
Location:Rutgers-Newark and Richmond,Virginia (phone)
Transcript(s):

transcript
Kiyan Williams is a multidisciplinary artist from Newark, NJ who works fluidly across sculpture, performance, and video. Kiyan graduated from Science Park High School and went on to earn a BA with honors from Stanford University and an MFA in Visual Art from Columbia University. Their work has been exhibited at SculptureCenter, The Jewish Museum, Brooklyn Museum, and The Shed. They have given artist talks and lectures at The Guggenheim, The Studio Museum in Harlem, Princeton University, Stanford University, Virginia Commonwealth University Portland State University, and Pratt Institute.

Kiyan's honors and awards include the Astraea Foundation Global Arts Fund and Stanford Arts Award. In 2018 they were invited to re-perform Bruce Nauman's "Wall-Floor Positions" at MoMA and PS1. They were selected to participate in the 2019 In Practice: Other Objects emerging artist exhibition at SculptureCenter and are among the inaugural cohort of artists commissioned by The Shed. Kiyan was previously an artist fellow at Leslie-Lohman Museum and is an alum of the EMERGENYC fellowship at the Hemispheric Institute for Performance and Politics at NYU. Kiyan is the recipient of the 2019/2020 Fountainhead Fellowship at Virginia Commonwealth University, where they are an assistant professor in the Sculpture and Extended Media Department.