Pucci Revlon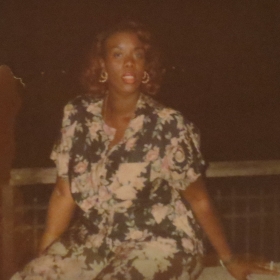 Interview Date(s):
Wednesday, April 12, 2017
Location:Newark, NJ
The Queer Newark Oral History Project mourns the passing of Miss Pucci Revlon, even as we celebrate and honor her life, which she lived fully and proudly as much-loved member of the LGBTQ Newark community. A true transgender pioneer who lived her truth with courage, Pucci participated in the legendary ballroom scene of the 1980s, worked as a nurse, and served as caretaker for generations of Newark youth, among numerous other accomplishments. While struggling with pancreatic cancer, she generously took the time to record several rounds of an oral history that provides invaluable documentation of Newark transgender history, and also allowed us to digitize her snapshots of the North Jersey/NYC ballroom world. She was a warm, brilliant, feisty presence, and her loss will be deeply felt here at QNOHP and throughout the community. Rest in Power, Miss Pucci. 

Miss Pucci Revlon was born in Newark in the late 1950s and has lived here for most of her life, living her truth as a transwoman since late high school. In this series of interviews, she recounts gay Newark life in the 1970s at such clubs as the Doll House, which staged semi-improvised plays including a version of The Wiz on rollerskates and another titled Is My Family Turning Gay? Miss Pucci attended Essex County College, which like most of Newark she found a safe and welcoming place, aside from one dramatic confrontation with a gay-bashing gang. She also describes how she obtained hormones, first in New York City and later in Newark, and her career in nursing.

In round 2, Miss Pucci elaborates on queer Newark clubs and the multiracial, multilingual community she grew up, as well as the central role of Bobby White in shaping queer Newark cultural life, and she recounts her romantic affairs, her experiences as the AIDS crisis emerged, and memories of the North Jersey/NYC ballroom scene—indeed, she briefly appears in the landmark documentary Paris is Burning, albeit against her wishes.

Finally, in a brief third round, Pucci discusses the confluence of punk and trans identity, current events from Caitlyn Jenner to Donald Trump, aging and her changing need for hormones over the years, and her struggle with pancreatic cancer.

View the photo collection here.