William Courson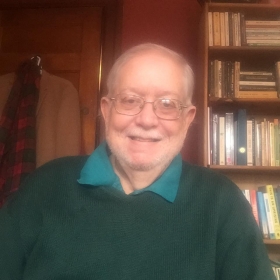 Interview Date(s):
Tuesday, December 4, 2018
Location:Home of William Courson
Transcript(s):

transcript
Bill Courson was born and raised at the Jersey shore (his hometown is Avon by the Sea) and relocated to and has lived in Montclair, NJ since from 1978.

A student at Brookdale and Monmouth Colleges in the the early 1970's, he feels fortunate to have lived through and participated in a period of political activism and social and cultural ferment that witnessed the birth of the contemporary movement for LGBT equality.  Along with a handful of other lesbians and gay male students, he co-founded the Gay Student Union, the first LGBTQ group at both colleges. 

In 1986 he founded the Magnus Hirschfeld Center for Human Rights, an informal global alliance  of attorneys and activists working through international organizations such as the United Nations, UNESCO, the Organization of American States, and the Council of Europe to promote and defend the human rights and fundamental freedoms of LGBT individuals and organizations. He was that organization's chief executive officer until 1996.

At present he practices ayurvedic medicine in Montclair, New Jersey and teaches at holistic health training programs in Florida, Michigan and Puerto Rico. He is active in a variety of local civic and charitable organizations.