Denise Hinds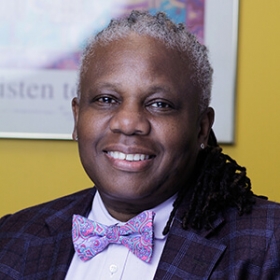 Interview Date(s):
Tuesday, April 12, 2022
Location:Zoom
Transcript(s):

Transcript
Denise Hinds is the Chief Program Officer for Youth and Family Wellbeing at
Good Shepherd Services
, where she oversees the agency's foster care programs, child welfare, and juvenile justice residential programs, supportive housing and other programs for young adults.
In 38 years at Good Shepherd Services, Denise has developed many innovative youth development-driven programs. Most notably, in 2002, she played a significant role in the development and implementation of the Chelsea Foyer, the agency's first supportive housing program for young adults experiencing homelessness and one of the first programs of its type in the country.
For the past 10 years, Denise has also led the organization's LGBTQ workgroup in creating a culture of awareness, acceptance, and celebration for its LGBTQIA+ children, youth, families, and over 1,000 employees. The workgroup has tackled everything from marching at Pride to creating gender-neutral bathrooms and adding pronouns to signatures.
Denise continues to dedicate a great deal of her free time to LGBTQ issues. She serves on the board of Family Equality, a national organization championing the rights and needs of LGBTQ people to have families, and is board chair of the Newark LGBTQ Community Center, which she describes as one of her most important works.
Among Denise's greatest achievements is being a mom to her daughter Maura.
Denise holds a BA from Maryville College and a master's in social work from the Hunter College School of Social Work, where she has also served as a clinical field instructor.